With the arrival of warm weather and sunshine comes spring cleaning! While the idea of cleaning may seem mundane, we've broken down the gargantuan home task into three main areas to focus on. If you are preparing for virtual showings or just tidying up, but just aren't motivated to get started, check out these tips and tricks!
Tidy up those Bathrooms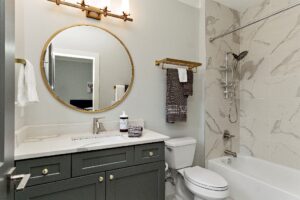 It may be the one place everyone dreads cleaning, but make sure you don't skip cleaning the bathrooms – especially when getting ready for virtual showings! We found that while most sellers focus on cleaning up the focal points of the home (kitchen and living areas especially), dirty sinks, toilets, showers and tubs are often forgotten about. Make your bathrooms shine and let potential buyers imagine themselves unwinding in a clean, spa-like master bath.
Simple things like a fresh set of towels and clearing the vanity space are also easy ways to refresh your bathroom. While you are emptying drawers and clear off counter tops, take the time to do a deep clean and declutter any old/expired products.
Get Organized!
Spring cleaning isn't just window cleaning and vacuuming. You'll also want to organize! Take a page from organizing experts like Marie Kondo and think about the things that spark joy – and the items that you use every day. We recommend editing, urging sellers to begin the decluttering process way before you put the home on the market.  You'll be rewarded in the end with an easier move! Design trends come and go, but a clean, bright and fresh home goes a long way.
Tackle organization little by little to avoid getting overwhelmed. For example, instead of focusing on an entire room, work through one set of drawers at a time. Setting realistic goals for yourself can also make organization and decluttering less daunting.
One great way to tie in current trends is with convertible furniture pieces. I've seen a lot of cool things that can really help with organization and tidiness, whether it be built-in closet systems or coffee tables that feature hidden storage compartments. Sometimes in smaller urban spaces we'll see cabinetry that can double as a desk, entertainment stand and sometimes even have a Murphy bed.
Head Outdoors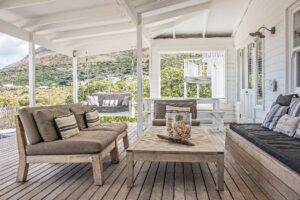 Don't neglect your outdoor spaces, especially when listing your home! As weather continues to improve we see buyers putting more and more emphasis on outdoor space. Some sort of outdoor space is generally important to people whether it be shared or private, but as spring approaches it begins to be something that buyers are more focused on.
With the trend of indoor/outdoor living on the rise, it is even more important to ensure that the backyard matches your immaculate interior living areas. Dust off any outdoor furniture and consider investing in some outdoor storage like a shed or deck box to hide clutter and seasonal items.
We also encourage sellers to think about what instantly catches the eye of potential buyers – the curb appeal of the home! The one thing in real estate that has NOT changed is that everything begins with a good first impression and that starts at the curb not the front door. Make sure your yard and garden look fresh and up to date.
Consider mowing the lawn or trimming back the hedges and clearing off the front porch. And don't forget to take care of the windows so you can enjoy the views without dirt getting in the way!
Whether you are getting ready to list your home or just trying to tidy up and stay organized, these steps will help you get your abode squeaky clean!